Reisgids Madeira
Winkelmandje
Er zitten geen produkten in de winkelmand.
Produktbeschrijving:
De auteurs Gisela & Werner Tobias van Uitgeverij Vistapoint* hebben zich ten doel gesteld om andere vakantiegangers de bezienswaardigheden en charmante kanten van dit eiland, waarvan de naam hout betekent, te laten zien.
Bij de POI-categorieën als. hotels, musea, restaurants of plekken krijg je beschrijvingen en verdere details** en zie je bijvoorbeeld of het hotel aan het strand ligt, hoe duur het is en wanneer de markt of musea in Funchal zijn geopend, maar ook waar je de mooiste kathedraal vindt of het lekkerste kunt eten. Bij de categorie plekken vind je ook nog wat foto's** en informatie over de mooiste plekken van Madeira, waarvan er een aantal diep verstopt achter de bergen liggen.
Naast algemene informatie vind je ook uitgebreide informatie over de geschiedenis, de keuken en de Madeira wijn. Daarnaast bevat de reisgids een beperkte gesproken reisbegeleider en een handwoordenboek met uitleg over de menukaart.
*Alleen beschikbaar in het Duits.
**Alleen mogelijk in combinatie met POIbase Mobile.
POIbase kaart met voorbeeld van de weergave van POI's: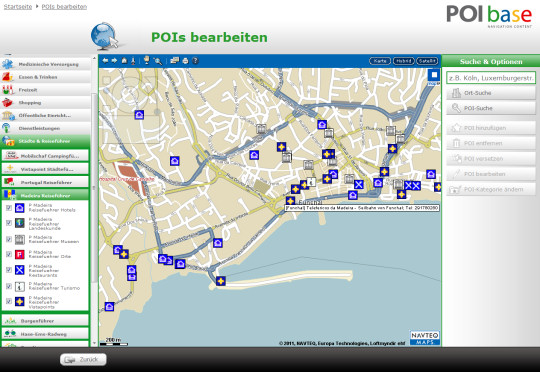 Looptijd product

Je kunt het product 12 maanden gebruiken en gratis updates downloaden.

Aantal POI's

190

Dekking landen

Talen

Device Compatibility

The product is compatible with the following devices:

Alfa Romeo

Alfa Romeo

ALK

Copilot iOS, Copilot Android, Copilot Windows Mobile

ALPINE

INA-W910R (Attention! Only compatible for older versions without map data on...

ALPINE

INE-S900R (ohne SR1), INE-S900R (mit SR1 keine Blitzer)

ALPINE

NVE-M300P (Compatible down to firmware version: 20.05.2011), Firmaware update...

ALPINE

INA-W910R (1)

ALPINE

INA-W970BT, INE-W990BT, INE-W990HDMI

Alpine X-Serie

INE-W710D, INE-W997D, X701D-xx, X702D-xx, X801D-U, X802D-U, X901D-xx, X902D-xx

Alpine X903D X803D-U INE-W720D INE-F904D

X903D, X803D-U, INE-W720D, INE-F904D

AUDI

MMI® Navigation plus MMI® touch, im A3,A4,A5,A6,A7,TT,Q2,Q5,Q7,R8, (abhängig...

AvMap

AvMap

Becker

Traffic Assist, Ready, Active, Transit, Professional, Revo

Becker Mamba

Becker Mamba4, Becker Mamba4+

Becker Traffic Assist (Navigon)

7926-7928, 7977, Z101, Z200, Z250

Blaupunkt

TravelPilot 100, TravelPilot 200, TravelPilot 300

Blaupunkt

TravelPilot 500, TravelPilot 700

Blaupunkt

TravelPilot 43/53/54/73/74, TravelPilot 55/65 active, MotoPilot 43

Dacia MediaNav

MediaNav 1 (Evolution), MediaNav 2 (Evolution), MediaNav 3 (ab MJ2019)

Destinator

6, 7 (*.dat)

Dynavin

Dynavin

Eclipse

Eclipse

Falk

Navigator 5

Falk

Navigator 6

Falk

Navigator (Compatible down to version: 7), E-, F-, N-, P-, R-, S-, V-, FLEX-,...

Falk (iGO OEM)

NEO 520 (LMU), NEO 620 (LMU), NEO 640 (LMU), NEO 640 Camper

Fiat

Fiat Blue&Me

Garmin

POI-Loader kompatible Navis, Garmin nüvi, Drive, Camper, Dezl-Serie, Kenwood...

harman/kardon

harman/kardon 200, 300, 500, 810 (nur Blitzer)

iGO 2006

Harman 200/300/500/810, MyGuide 3300

iGO My way 8 und 9 (Primo)

iGO 8 for PDA, iGO 9 (Primo), Pioneer F250, F260, Clarion iGO 8.xx OEM,...

iGO Primo

iGO Primo 9.xiGO Primo 9.x OEMBlaupunkt New York 800, Philadelphia 835

JVC

KW-NX7000E

JVC

KW-NX7000E, KW-NT3E, KW-NT1E, KW-NT30

Kenwood

Kenwood ALL-IN-ONE Navis

Krämer Automotive

KR-G6+ mit RC WIN 6.x

Land Rover

Range Rover Evoque, Freelander

Magellan

Magellan

Mazda

Mazda

MEDION

MEDION GoPal Navigator PNA

Mercedes

Command Online NTG ab 4.5, MBUX

Mio

Moov M410, M610

Mio / Navman

Mio Moov, Navman S,F,N

Mio Combo 5107 LM

Mio Combo 5107 LM

Mio PC-Software

Mio PC-Software

Navigon

MobileNavigator 7.xx

Navigon

MobileNavigator PDA

Navman

SmartST 2006

Nissan

Nissan Connect

Opel

Opel Touch & Connect

Opel

Navi 600 / 900

Pearl NavGear

NavGear SLX, NavGear RSX, NavGear RS, NavGear GT, NavGear MX, NavGear VX,...

Pearl NavGear N-Serie

NavGear N5/N6

Pioneer

F10BT, F20BT, F30BT, F40BT, F50BT, F3x0BT, F840BT, F850BT, F920BT, F940BT,...

Pioneer (NNG OEM)

AVIC-F500BT, AVIC-F700BT, AVIC-F710BT, AVIC-F900BT, AVIC-F910BT,...

Renault

R-Link

Route 66

Navigate 7

Skoda

Skoda Columbus, Skoda Columbus 2, Skoda Amundsen (Basierend auf MIB II ab 2015)

Smart Media-System

TomTom System auf SD-Karte

Snooper

Snooper Navis ab Software 3.0.1.24

Subaru

Subaru

TomTom

GO, ONE, XL, Rider, PDA, MOBILE

TomTom via MyDrive Connect

GO 1000-Series, GO 800-Series, VIA 110,120,125,130,135, START 20,25,60...

Volvo, Land Rover, Kia

Volvo RTI Sensus, Range Rover Evoque, Land Rover Freelander, Kia

VW

Discover Pro, Skoda Columbus (as of 2013)

VW / Skoda / Seat

VW RNS 510, VW Discover PRO 1/2, WV Discover Media, Skoda Columbus 1/2, Skoda...

VW Discover Media & PRO / Skoda Columbus 2 / Skoda Amundsen / Seat Navi System (Plus)

Discover Media as of 22/2014 (Golf: as of 22/2015), Discover Pro, Discover...

VW RNS510

VW RNS510, Skoda Columbus, Compatible down to firmware version: 3xxx,...

ZENEC Z-N426 Z-N328

ZENEC Z-N426, ZENEC Z-N328