POIbase Mobile
Winkelmandje
Er zitten geen produkten in de winkelmand.
Produktbeschrijving:
POIbase Mobile wordt op het navigatiesysteem geïnstalleerd en breidt deze met een groot aantal nieuwe functies uit. Hiermee krijg je veel meer mogelijkheden met POIbase dan wanneer alleen de POI's geïnstalleerd worden.
---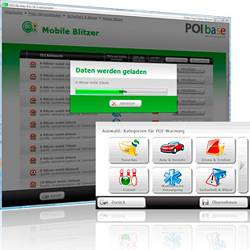 Eenvoudig beheren van POI's direct op het apparaat
Doorzoek de database naar POI's in de omgeving
POI's als bestemming gebruiken
Onderweg eigen POI's toevoegen
Wijzigingen automatisch uploaden
---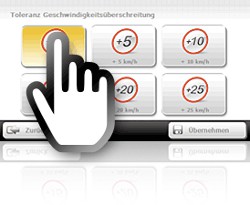 Bediening is geoptimaliseerd voor mobiele navigatiesystemen (volledig met de vingers te bedienen!)
Snelle en eenvoudige configuratie en bediening
Met een druk op de knop op elk gewenst moment te activeren
Details bij POI's tonen (zoals foto's)
---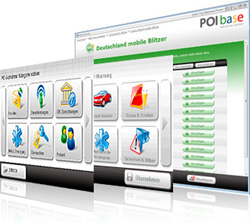 Categorie en sub-categorieën waarmee snel en makkelijk toegang hebt tot alle POI's
Eigen lijst met favorieten aanleggen die extra makkelijk toegankelijk zijn
Toegang tot interne apparaatfuncties (bestandsexplorer / apparaatdesktop)
Draait na installatie op de achtergrond
---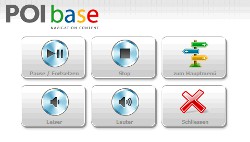 Toegang tot meer dan 500 hoorboeken
Geïnstalleerde hoorboeken onderweg afspelen
Toegang tot een groot aantal Apps
Games via POIbase installeren en starten
Films beheren en bekijken via POIbase
---
volautomatische configuratien
Gesproken aanwijzing met afstand en soort flitser
Tolerantie voor flitserwaarschuwing kan handmatig geconfigureerd worden
Waarschuwingen in de juiste rijrichting
Flitser kunnen met een druk op de knop verwijderd worden
Vele andere opties en instelmogelijkheden
*Flitserpakket noodzakelijk
Talen

Geheugengebruik

3.20 MB

Device Compatibility

The product is compatible with the following devices:

Becker

Traffic Assist, Ready, Active, Transit, Professional, Revo

Becker Traffic Assist (Navigon)

7926-7928, 7977, Z101, Z200, Z250

Falk

Navigator (Compatible down to version: 7), E-, F-, N-, P-, R-, S-, V-, FLEX-,...

Navigon

MobileNavigator 7.xx

Navigon

MobileNavigator PDA

Navigon

MobileNavigator 8.xx

Pearl NavGear

NavGear SLX, NavGear RSX, NavGear RS, NavGear GT, NavGear MX, NavGear VX,...