POI Pilot 6000 users now have access to a setting allowing them to receive beep warnings when approaching safety cameras.
Up until now, our popular GPS Speed Camera Warner POI Pilot 6000 only issued verbal warnings on approaching road hazards and fixed or mobile speed cameras. Now the danger and speed camera warner also offers the possibility to select a simple beep sound instead of spoken output.
To access the optional beep setting for free, you need to install an update on the POI Pilot 6000. Your POI Pilot will always be updated via the POIbase PC application. Downloading the newest POIbase update will not only provide your GPS speed camera warner with the newest POI and speed camera data but also with the newest functions.
After updating and launching POIbase on your PC, update your POI data via the yellow button to be found under "Load POIs and Speed Cams". During the update a prompt will allow you to select the beep option for your POI Pilot, as demonstrated below.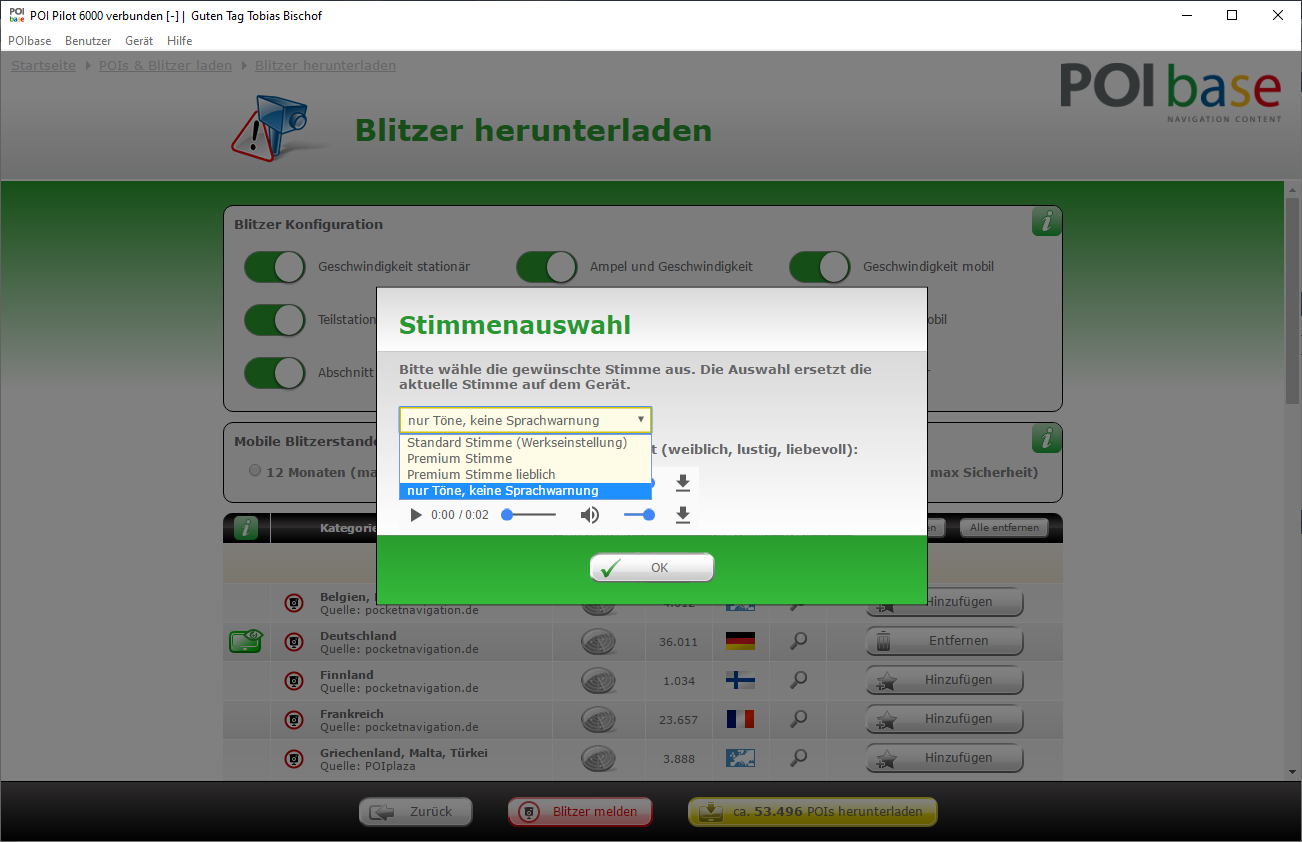 Advantages of beep warnings for danger zones and safety cameras:
Short yet distinctive audio sounds distract less from traffic.
The volume can be set louder than the speech output warnings.
Additionally, the warnings are different for each camera type. An overview is provided below:
Potential mobile speed camera
Red light and speed camera
Fixed average speed camera (Section Control)
Misc road hazards (Safety POI's)
Warning if approaching a speed camera too fast
The POI Pilot 6000 can be placed in your vehicle inconspicuously and is the ideal solution for anyone who doesn't wish to install POI's and safety cameras on their sat nav, or if your GPS device doesn't support audio warnings.
Note:
Due to technical restrictions, using the beep setting will result in incomplete sound output for some menu items on the POI Pilot when using the device. These menu items - such as numbers - can be read from the screen and settings can be made as always, so this shouldn't cause too much of an inconvenience.
The POI Pilot 6000 can be purchased from 69.90 EUR in our online store: POI Pilot 6000