POI Pilot connected
¡Bienvenido a la tienda POIbase! Aquí puedes comprar útiles y fascinantes productos POI Premium de diversas categorías. ¡Disfrute de un descuento si compra más de un producto!
Carrito de compras
No hay artículos en tu carrito de compras.
Descripción del producto:
The best POI Pilot ever, cause it's never been easier! Switch it on and off you go. Thanks to its built-in SIM card, the POI Pilot Connected is always up to date, and reliably warns of stationary and mobile speed cameras throughout Europe (44 countries)!
Features
POI Pilot 6000
POI Pilot connected

---

All-in-one and standalone: alerts you of speedcams and warns about road hazards: no smartphone app or Bluetooth required

---

Removable battery with long run time



---



Onboard loudspeaker and headphone jack with voice output

---

Incl. data by POIbase (fixed speedcams & known sites of mobile speed cameras as well as road danger spots with 1 year updates*)

---

Incl. data by blitzer.de for warnings of active mobile speedcams (real-time) with 1 year updates*

---

Connected: with built-in SIM card (no extra costs, included in scope of delivery)

---

Device settings can also be done via web interface at pilot.poibase.com

---

Updates
Windows PC software
Live via SIM card

---

Coverage
D-A-CH or Europe
Europe
Further improvements
The POI Pilot connected is a
continuing development
of the very popular and bestselling POI Pilot 6000 GPS speedcam warner. Some of the improvements include:
Screen readability significantly improved (bright display)
Automatic light sensor adjusts display brightness
Additional acoustic alert when passing the speed camera
Increased positioning accuracy
Auto start-stop function
Adhesive pad (for dashboard) included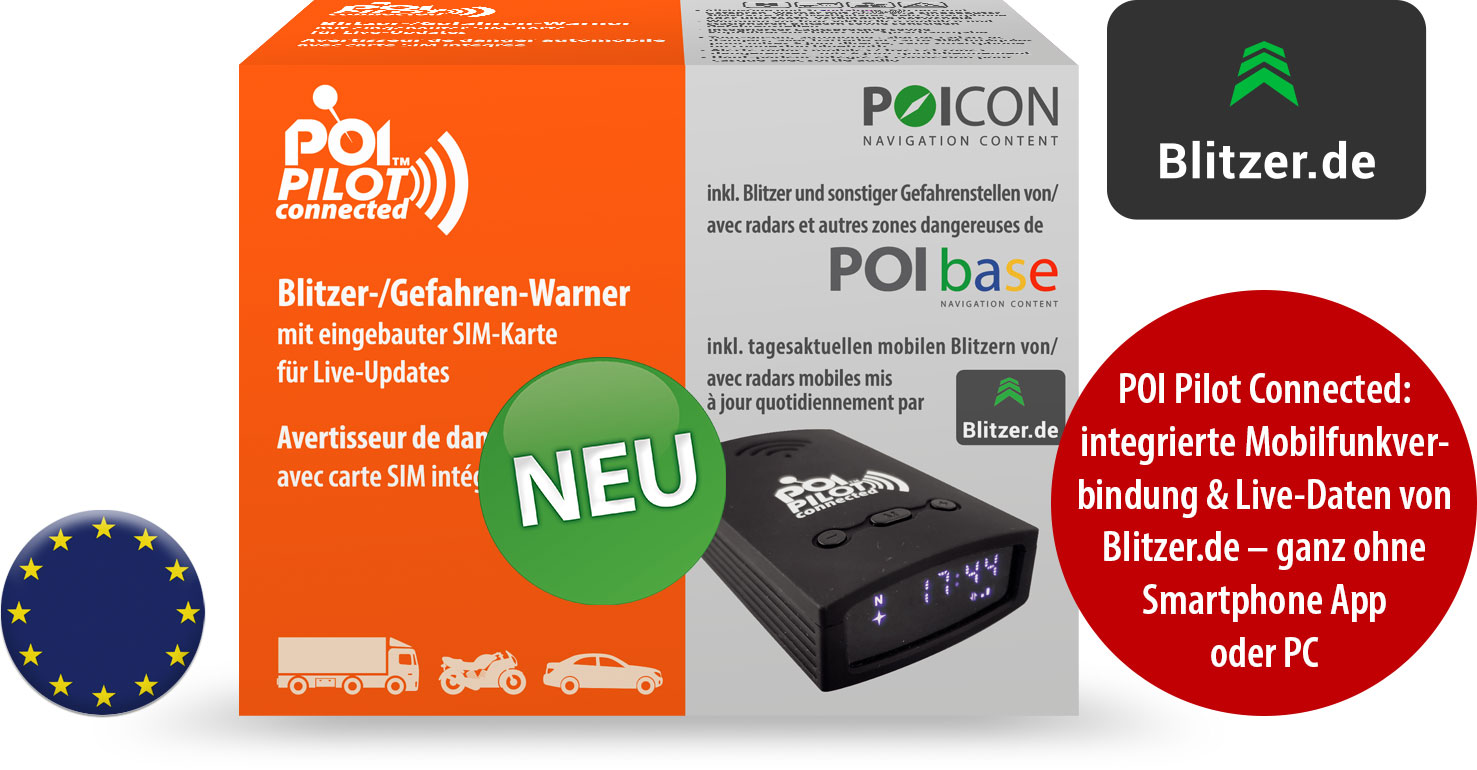 Features and Specs
Alerting you about stationary and mobile speed traps plus other danger zones: schools, kindergardens etc. on time
Supports clear voice alters & visual warning
replaceable 1100mAh lithium-ion battery with 6-12 hours battery life
Loudspeaker, volume control and 3.5mm audio out
Panic button (disables all speed cameras)
Report live all types of speed cameras
Alerts you to not exceeding speed limits nearby speed cameras
Warns when exceeding a self-set speed limit
Display of speed, time, distance to the next speed camera or danger spot and type of speed camera (fixed or mobile)
A lot of custom settings possible, e.g. warning only if too fast (adjustable tolerance), number of warnings, warning angle, time before warning, etc.
Super small: 86 x 53 x 24 mm
In the Box
Incl. data from Blitzer.de to warn of active mobile speed camera locations and 1 year of free updates*
Incl. POIbase data to warn of fixed & potential mobile speed camera locations with 1 year of free updates*
Incl. SIM card without additional costs (Europe-wide update**)
Suction cup mount and adhesive pad
Car power supply and USB cable
Quickstart guide
Learn more
More details and all features of the POI Pilot connected are also well described in the online manual:
Go to online manual...
(currently only in German)
* Renewal (optional) 2 EUR per month (annual payment)
** This requires a 2G mobile network, which is not available in Switzerland, for example. However, the data for Switzerland is still available as long as you have downloaded it before reaching the country.
Envío

Gastos de envío en Alemania: 4,90 EUR. Gastos de envío UE: 14,90 EUR.

Plazo de entrega en Alemania máximo 2 días. Plazo de entrega en la UE máximo 4 días.