POIbase allows you to install additional Points of Interest and the locations of fixed and mobile speed cameras on Suzukis equipped with Smartphone Linkage Display Audio Systems (SLDA) and Smartphone Linked Navigation (SLN) plus Bosch MMC Radio. Millions of POI's are available for download directly via POIbase. Your personal POI collection and/or the locations of speed / safety cameras are automatically converted to the relevant format by POIbase and copied onto your USB stick.
Tested in the following Suzuki vehicles:
Suzuki SX4 s-Cross BJ 2016/17
Suzuki Vitara LY 2015
Suzuki Swift BJ 2017
Ignis Comfort+ 2017
Bosch MMC Radio
Suzuki Vitara BJ 2019
Suzuki SX4 S-Cross Hybrid BJ 2020
POIbase ought to work with all other Suzukis that have Suzuki SLDA or SLN. If you try it out on vehicles and sat nav systems not mentioned above successfully, let us know and we will award you with a 10 EUR voucher redeemable against POIbase subscription updates! If using Suzuki SLN, POI's can only be installed from Firmware version 850.
Features
POI's and safety cameras can be selected via POIbase for PC or POIbase web edition (browser version)
Safety cameras can be displayed on the map
POI's can be displayed on the map
Visual warnings when approaching safety cameras
Audio warnings when approaching safety cameras
Notes
Warnings do not work as described in the manual with some Suzuki SLDA software versions. In these cases, the warnings can be activated by tapping the settings symbol (cog), and then manually activating BEEP and ON after the route has been calculated.
POI's can only be displayed on the map using the default Suzuki SLDA icons.
Audio warnings and display are only reliable from version 850. From version 1850.2 display and warning of speed cameras does not seem possible.
Installing POI's & and speed camera data on a USB stick via POIbase
Requirements
An empty FAT32 formatted USB stick.
First, download and install POIbase on your PC if you have not done so already. Alternatively, you can use the web version. In either case, you will need to login to an existing account or register using a valid email address.
Connect the USB stick to your computer.
Launch POIbase, choose manual device selection and then the Suzuki SLDA (Smartphone Linkage Display Audio System) Module.
In POIbase, click on Load POIs and Speed cams and then on Download POIs or Download speed cams. Select a category, and then browse the subcategories. Click add to select a category for download, and use the back button at the bottom left to return to the higher levels. Once you have finished selecting POI's, you can check your choices by clicking on Load POIs and speed cams at the top left, and then on My Selected POIs. Here you can delete any categories if you have changed your mind via Remove. Click on the Download approx xx POIs button to transfer the POIs to the USB stick.
Once the data has been transferred successfully, there will be a folder named myPOIs on the USB stick, which will contain one or several myPOIWarnings_x.csv files. These files may also be in various other sub folders.
Once the POI data has been successfully transferred by POIbase, there will be a folder named myPOIs and a subfolder myPOIWarnings on the USB stick, which will contain one or several CSV files. Next, the file extension has to be changed from .csv to .asc!
Transferring POIs and Speed Cameras to the Suzuki SLDA / SLN System
Select Navigation in the Suzuki system and connect the USB stick.
The data will be detected automatically and a prompt will ask whether you want it to be installed. Accept by selecting Download and then tap the ✔
The POI's and/or speed camera data have now been installed on your Suzuki SLDA / SLN system.
Transferring POIs and Speed Cameras to the Bosch MMC Radio System
In the vehicle, connect the USB stick to the vehicle. Then import the data in the navigation system using the following menu:
Setup Navigation Load my POIs now
Settings in the Suzuki SLDA / SLN system
Warnings may be deactivated by default in your Suzuki SLDA / SLN. They can be activated as follows:
In navigation mode, use the Settings (cog symbol) to select My My POIs POI warnings. Here you can activate visual warnings (ON) and/or acoustic warnings (ON and BEEP).
If you want to delete the POI's from the Suzuki SLDA / SLN, enter navigation mode, tap Settings (cog symbol) My POIs Delete My POIs. Tap the ✔ to confirm.
Guide for the POIbase Web Edition
You can access the Web Edition here: POIbase Web-Version
Log in / create account
POIbase is only available to registered users. As the POI files are sent via email, you must use a real email address to register for free.
Select System
After logging in, scroll down the manual selection popup and select Suzuki. POIbase will remember your selection, so you will only have to do it once unless you opt to change device.
Select POI's for Export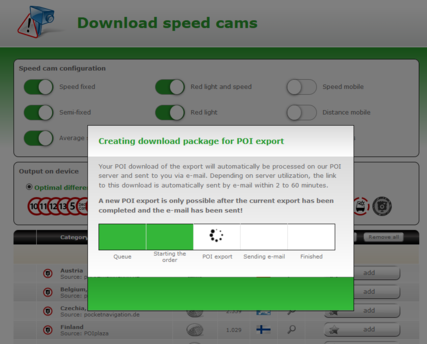 Click Load POI's and Speed Cams, and then Download Speed Cams or Download POI's. Select a category, and click through the subcategories to refine your selection. Use the back button to return to the previous categories. Click Add to select any category for export. Once you are finished, you can check your selected POI's under My Selected POI's.
If you are happy with your choice, click the yellow Download button at the bottom right of the interface.
Your request will now be processed by our server, which can take between 1 and 60 minutes, after which you will receive the download link via email. During this time you cannot edit your selection or send a new download request.
Downloading the POI Package
Click the download link in the email you received. The file will be named something like 447894-2019-10-09.zip (with the latter part of the code referring to the export date). Unzip the file locally, and make sure the destination folder is somewhere where you can find it again easily, such as the desktop.
Prepare USB Stick
The unzipped file will be named myPOIs. Copy it to the USB stick. For Bosch MMC Radio: Go to the subfolder myPOIWarnings, which will contain one or several CSV files. Next, change the file name from .csv to .asc!
Further Steps
Please refer to the instructions for the POIbase PC version under the Instructions tab, as the procedure from here on is identical.