Camping.Info by POIbase Pro+ Android App (3 Jahre)
Welcome to the POIbase shop! Here you can buy useful and fascinating Premium POI products from different categories. You can benefit from a discount when buying more than one product!
Shopping cart
There are no items in your shopping cart.
Product description:
Die freigeschaltete Camping.Info by POIbase PRO+ App enthält bereits die volle Funktionalität aus kostenlosen
Camping.Info by POIbase
und erweitert diese noch zusätzlich um folgende Funktionalitäten:
> Offline-Karten weltweit von HERE inkl. Kartenupdates
> Besseres Routing
> Automatisches Rerouting während der Fahrt
> optimiert für Camping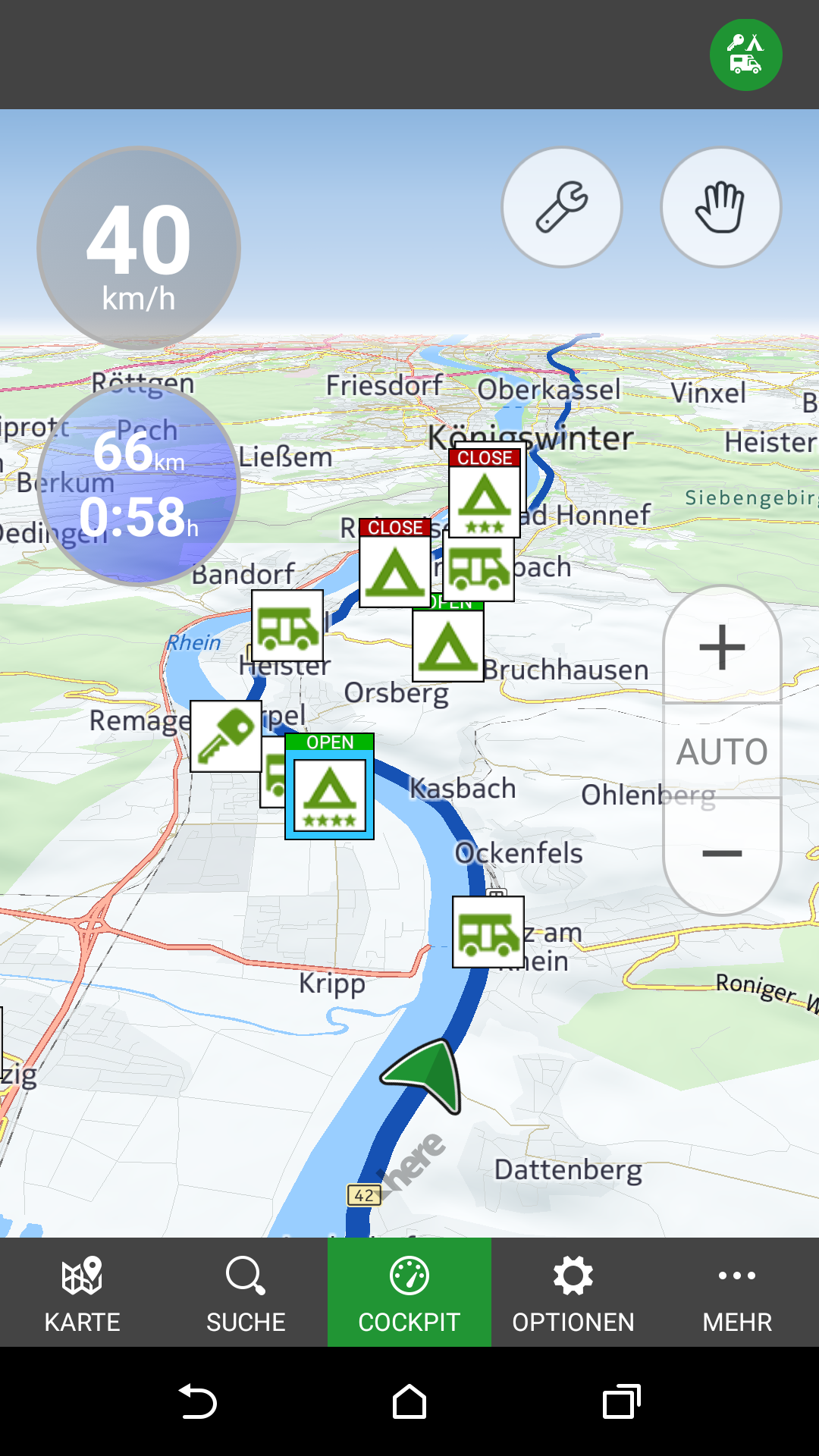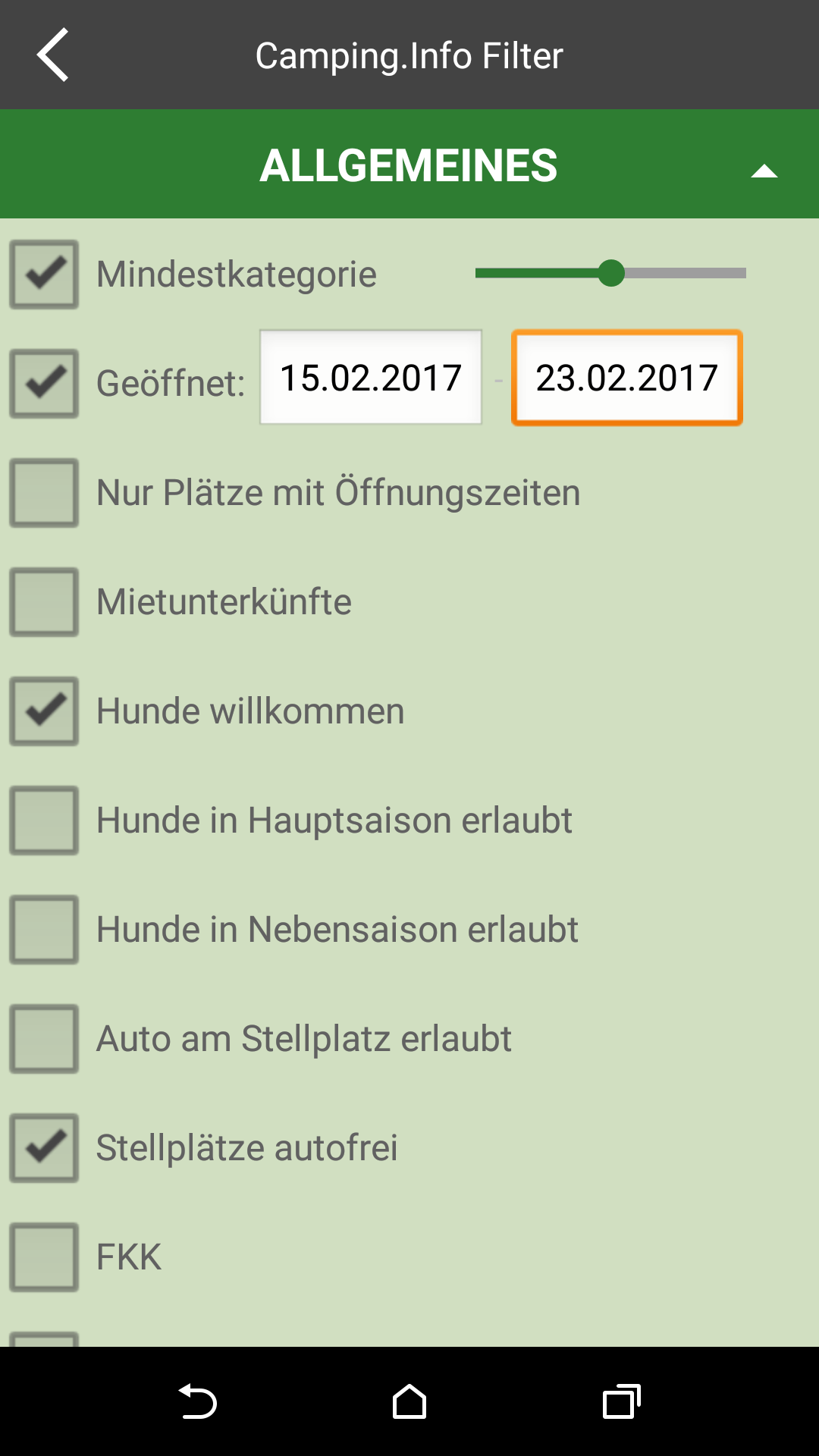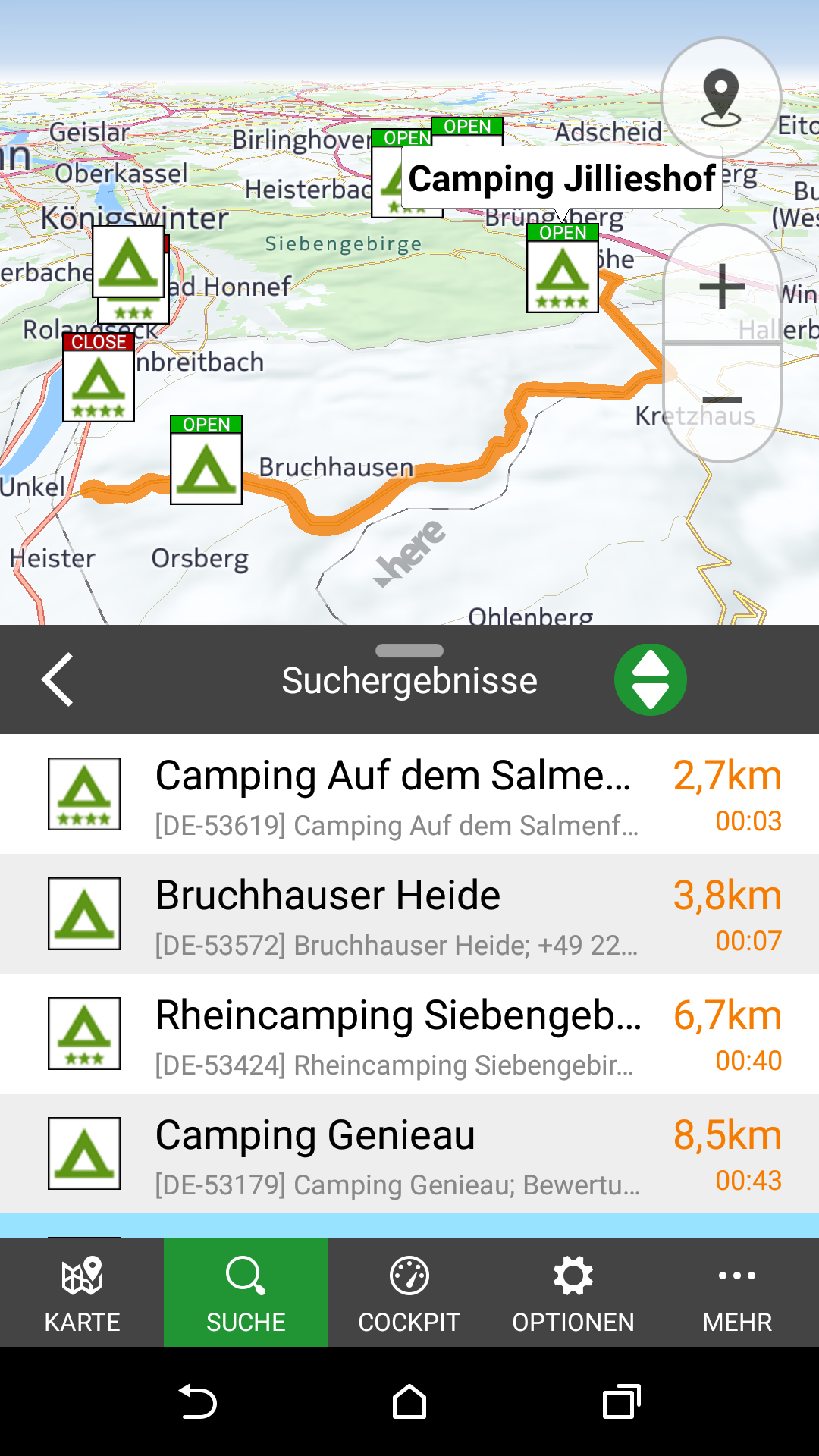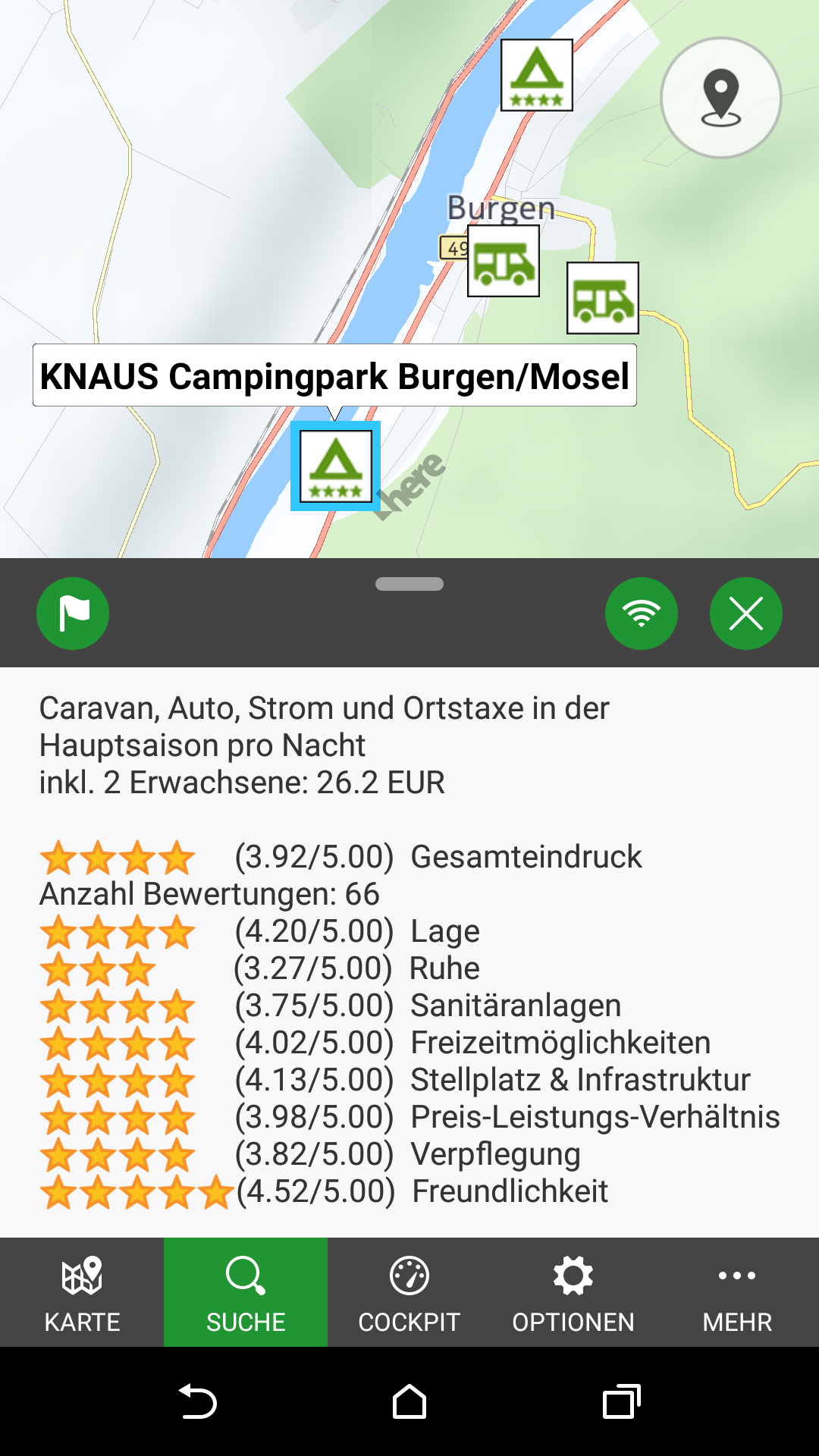 Durch die Möglichkeit der Offline-Verfügbarkeit des Kartenmaterials ist ein mobiles Nachladen der Kartendaten nicht mehr erforderlich. Dies spart erheblichen Traffic und bedeutet eine deutlich bessere Performance ohne Wartezeiten beim Laden der Karte.
Außerdem enthalten ist die volle Funktionalität der kostenfreien Camping.Info by POIbase Version:
Die Camping.Info by POIbase App verbindet die herausragenden Daten von Camping.Info, Stellplatz.Info sowie CaravanMarkt.info mit unserer POIbase Technologie:
> Datenbasis der am meisten genutzten Camping-Webseite Camping.Info und Stellplatz.Info!
> OFFLINE Suche (keine Internetverbindung nötig)
? Suche mit vielen Filtern (auch Bewertungen der riesigen Community)
> Anzeige ausführlicher Details
> Schnelle und weltweite Karte von HERE inkl. 3D- und Sattelitenansicht (in Pro+ Version auch OFFLINE verfügbar)
> Routenberechnung und Zielübergabe an Navi-Apps
> Querformat unterstützt
> Merkliste um Plätze zu Camping, für das Wohnmobil oder den Wohnwagen in einer persönlichen Liste zu sichern
Als Datenquelle wird Camping.Info (Camping Daten), Stellplatz.Info sowie CaravanMarkt.info verwendet, damit erhält der App Nutzer kostenlosen Zugriff auf:
> Community-Projekt: Camping.Info ist mit 12 Millionen Visits/Jahr die meist genutzte Camping Webseite im deutschsprachigen Raum
> Ausführliche Bewertungen nach vielen Kategorien aus riesiger Community
> 24.900 Campingplätze aus 44 Ländern Europas
> 5.800 Stellplätze (Wohnmobil, Reisemobil & Wohnwagen)
> 740 Händler/Werkstätten (Caravan)
> 98.000 Bewertungen von über 50.000 Campern
> 40.000 Fotos zu den Campingplätzen (Online)
Die App empfiehlt sich mit einer Vielzahl an Funktionen und dem riesigen Datenpaket von Camping.Info als Campingführer und Stellplatzführer. Mit den Werkstätten für Reisemobile ist sie ein nützlicher Begleiter für den nächsten Urlaub mit Wohnwagen oder Wohnmobil.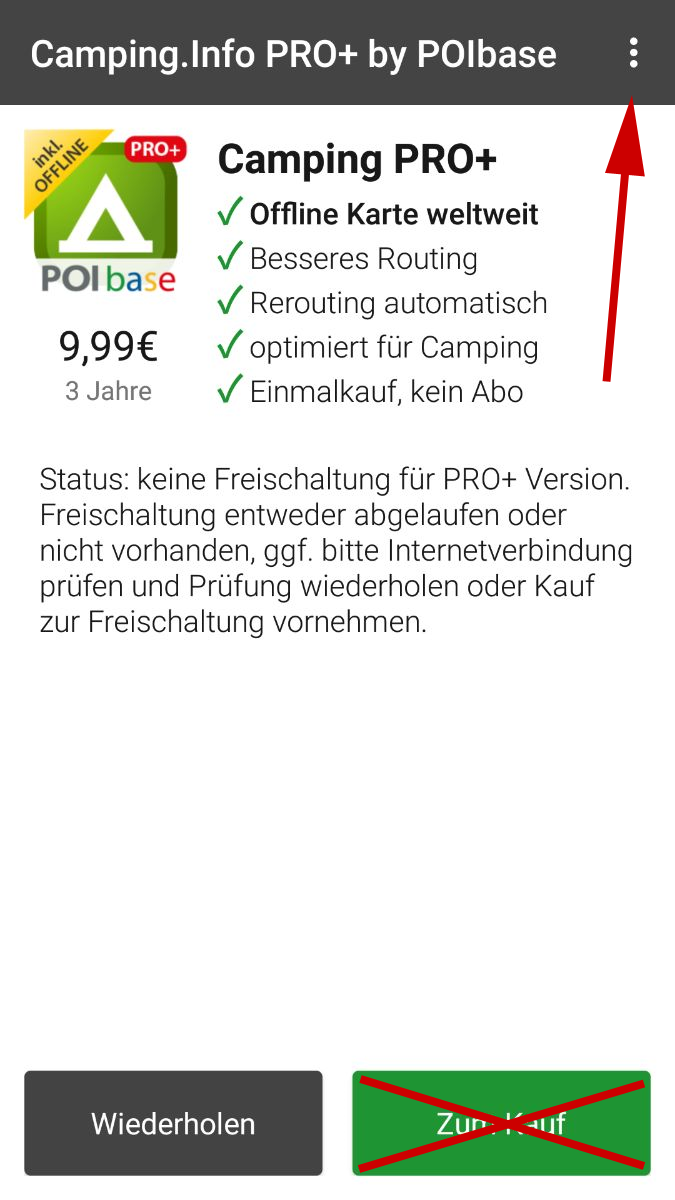 Installation und Freischaltung
Zur Nutzung muss zunächst die
Camping.Info by POIbase PRO+
Version über GooglePlay auf dem Android Smartphone installiert werden.
Nach Start der App erscheint ein Freischaltdialog (siehe Screenshot auf der rechten Seite)
Wenn das Produkt bereits über den POIbase Shop bestellt wurde, bitte NICHT auf Kaufen klicken, sondern rechts oben auf die drei Punkte und das POIbase Login eingeben.
3-Jahres Lizenz - aktuelle Daten & Karten
Die App ist nun freigeschaltet und kann 3 Jahre lang genutzt werden. Nach 3 Jahren endet die Nutzungslizenz ohne sich automatisch zu verlängern (kein Abo!).
Kurz vor Ablauf der Nutzungsdauer informieren wir per Mail und bieten attraktive Optionen zur Verlängerung!
Product life

You can use the product for 36 months, as well as download product updates at no extra cost.

Device Compatibility

The product is compatible with the following devices:

POIbase (Android)

POIbase (Android)